KEEP GROWING WITH BEAUTIFUL




PLANTS & BIG IDEAS FROM WANNEMAKER'S!
For Illinois gardeners, June is the perfect time to plant perennials. Wannemaker's has you covered with a HUGE SELECTION of top perennial picks, from HOSTAS and DAYLILIES to CONEFLOWERS and SO MUCH MORE. We have all your summertime favorites, too: annuals, roses, trees, and shrubs, plus tasty vegetables and herbs.
Keep scrolling to check out our featured flower, along with some gardening tips and perennial picks!
FEATURED FLOWER
HOSTA
A perennial favorite, gardeners love hostas for their lush foliage and easy care.
Another reason to love hostas? Their endless variety! Native to Northeast Asia, hostas come in more than 2,500 varieties, with a huge range of leaf shapes, sizes, and textures. Come in to Wannemaker's today and find a host that matches your one-of-a-kind style!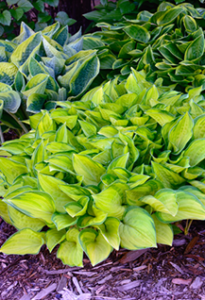 While some nurseries ship the majority of their plants from other locations, we like to grow most of ours locally. Why? Because, when you ship plants from other locations, you risk exposing them to big changes in temperature and climate, which can damage the plants.
Local plants are healthy plants—that's why we grow 90% of ours right here in the Midwest. Find a plant by clicking here.
GROWING SKILLS
6 PRO-GARDENING TIPS 
How can you bring an eye-catching pop of personality to your garden? What do your plants need to grow, besides soil, sun and water? And how should you arrange the plants in your garden to make the most of your space?
Whether you're a certified green thumb or are just digging in, here are a handful of helpful tips from Wannemaker's knowledgeable staff! Click here to read the article.