Channel your inner grillmaster with Wannemaker's. We have over 50 different kinds of grills to suit your space, style, taste and budget.
Pellets
From subtle and fruity – to mild and nutty, enhance the flavor of your meat with a variety of 100% all-natural, premium blend hardwoods.
Traeger
CHERRY PELLETS 20LB
Details

Only Traeger can guarantee that nothing harmful is cooking your food. With our 100% all-natural wood pellets, fuel the fire for memorable food kissed by robust wood smoke. We keep our smoke to moisture ratio consistently at 5%—the perfect spot for optimal burn. With Traeger Cherry pellets, naturally enhance Beef, Chicken, and Pork with a subtly sweet, fruity flavor.
Traeger
SIGNATURE BLEND PELLETS 20LB
Details

Hickory, maple, and cherry hardwood flavors combine for a blend that can take on just about anything you cook. From classic BBQ meats, to fish and veggies, this versatile blend gives you full-bodied flavor you'll go back to time and time again.
Traeger
PECAN PELLETS 20LB
Details

Our expertly crafted, all-natural Pecan hardwood burns slow and steady every time. The Traeger moisture to smoke ratio stays at 5% (aka, the sweet spot), which means your food gets a thick and even lick of flavorful smoke. This fuel is the right choice for naturally augmenting your pork, chicken, vegetables, beef, and pork with sweet, spicy, assertive flavor.
Traeger
HICKORY PELLETS 20LB
Details

Experts agree, for robust flavor hardwood is the secret ingredient. Even smoke delivery is determined by the quality of your fuel. We've spent years perfecting a premium, balanced blend of hardwoods to reach and maintain optimal cooking temperatures. Traeger Hickory pellets are great for naturally enhancing Beef, Chicken, Pork, and Veggies with full-bodied flavor.
Traeger
MESQUITE PELLETS 20LB
Details

To master the craft of outdoor cooking and flavorful food, quality fuel is key. Traeger has dedicated years to developing a premium blend of hardwoods with the compact cell structure needed to obtain a dependable burn. Traeger Mesquite pellets are perfect for naturally enhancing Chicken, Beef, and Fish with robust flavor.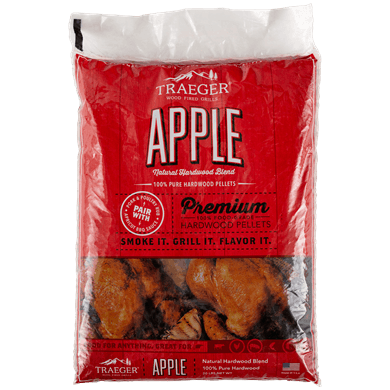 Traeger
APPLE PELLETS 20LB
Details

To master the sport of cooking outdoors, natural hardwood is a game changer. We've dedicated over 30 years to establishing the recipe for pure, natural flavor from 100% hardwood, gathered from all over the U.S. Traeger's premium blend of hardwoods have the compressed cell structure necessary for a balanced, dependable burn. With Traeger Apple pellets, you'll get a light, slightly fruity smoke flavor that will naturally enhance Veggies, Pork, and Chicken.
Sauces & Rubs
Let your favorite flavor come to the table. We have a wide variety of sauces and rubs to make your tastebuds sing.