We are open daily 9AM – 5PM for safe, in-store shopping.
Wannemaker's continues to be open daily from 9am-5pm for safe shopping, but we are no longer able to fulfill orders for curbside pick-up.
We are extremely grateful for the overwhelming support from the community during this difficult time. In order to ensure the safety of our customers and staff, we will be implementing new safety procedures that will provide you with a safe in-store shopping experience. Thank you for your understanding and patience while we navigate these new waters together.
We've been growing with our community for over 50 years, helping family traditions blossom. At Wannemaker's, you'll find just what you're looking for, whether it's the perfect petunia for grandma, the best barbecue for the family grillmaster, or a great gift for your daughter's new home.
So come on over.
News & Events
---
Get ready to bloom with us! We have everything you need for a beautiful garden. Visit our nursery and greenhouse for a large selection of annuals, perennials, trees, shrubs, and more. Open daily for safe, in-store shopping.


Hours
MONDAY – FRIDAY
9:00am – 5:00pm
SATURDAY & SUNDAY
9:00am – 5:00pm
Labor Day
9:00am – 4:00pm
Contact
Save up to 25%.
CLICK HERE to view our premium selection →


We're offering free assembly & local delivery on Weber and Traeger grills and smokers.
CLICK HERE to browse grills →


Bring one-of-a-kind character to your home, garden or landscape with fountains & statuary. Our collection features hand-picked, premium-quality fountains and statues from top brands.
CLICK HERE to browse our selection →


We have a large selection of soils, mulch, gravel, stepping stones, sod and more.
CLICK HERE to browse our selection →


We're excited to bring you a variety of grill classes, where you can learn from the grilling experts. Click here to sign up for upcoming classes.


Choose from Lavastone, Crescent and Novelty Pottery, Mayne Planters Tusco Urns, and more.
CLICK HERE to view inventory →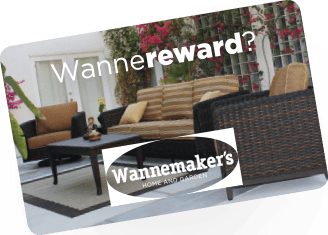 WANNE
TREAT
YOURSELF?
You get a point for every dollar you spend here, and every 250 points earns you a $10 reward.
---